First Annual Versa-Style Next Generation Gala
Dates: Saturday, January 27th, 2018
Address:
The Rosenthal Theater at Inner City Arts
720 Kohler St, Los Angeles, CA 90021
About the event:
A night of celebrating street dance culture & inspiring positive change in our community. Come witness the dancers of VSNG perform their first evening showcase, telling their stories and inviting us into their world of street dance culture. Enjoy hor d'oeuvres and drinks in the intimate Rosenthal Theater at Inner-City Arts in the heart of Downtown Los Angeles, and learn more about Versa-Style Dance Company and our endeavors. We hope you will be able to join us, as we celebrate dance, community, culture, and family.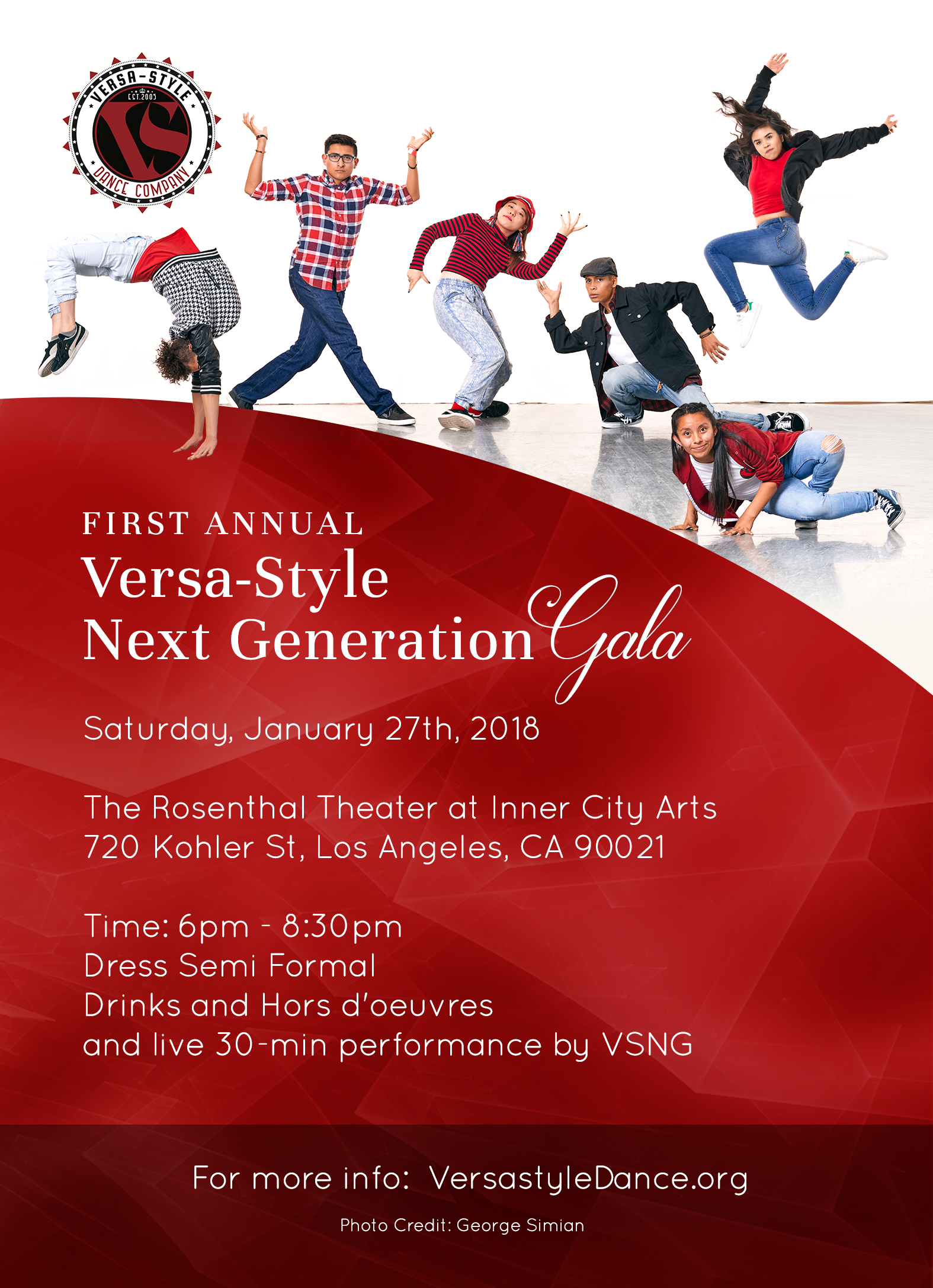 ---
'Our Culture' A Versa-Style and Artefakt Collaboration
Dates: Saturday, February 24th, 2018
Address: Evolution Dance Studios
About the event:
1vs1 Popping
1vs1 Hip-Hop
Time: 5:00pm-11:00pm
More info coming soon!
---
Versa-Style in The Tutu Foundation Presents:
Lipstick, Shoes, and Fancy Moves
Dates: Saturday, October 14th, 2017
Address: 3330 Civic Center Dr. Torrance, CA
About the event:
The TuTu Foundation was created out of a passion for dance and the performing arts. It provides a showcase for the work of professional and emerging artists, and seeks to share the thrill of live performance with wider audiences through subsidized admission tickets and educational outreach.
Click below to get more info!
---
ONGOING EVENTS

The VS One Day Dance Intensives bring together some of the most talented dancers from all over Los Angeles into one all-day workshop. Classes range in all styles of street dance, from Popping to House to Locking to Dancehall. Also, the low cost of the intensives allow young dancers to participate and grow with their community. Stay tuned to our website and Facebook page for the next One Day Dance Intensive!

Held multiple times a year, the Versa-Style Let The Music Move You community dance battles brings dancers and supporters from all over Los Angeles together to engage in friendly competition and social dance. These events are held at a low cost to the community so youth are encouraged to attend and be a part of true hip-hop culture.

Our largest event of the year, the Versa-Style Annual Hip-hop Dance Festival, which is held in partnership with the East Los Angeles Performing Arts Magnet, is a 2 day event open to the public. We provide free dance workshops before the main event on Day 1 and personally invite all of our LAUSD K-12 partnership schools to attend. Day 1 of the event focuses around our battle, where local and international dancers put their skills to the test in a competitive setting. Street dance pioneers are invited to judge and showcase on Day 1, then teach workshops on Day 2. Students are encouraged to participate in both days of the event, so we provide admission for both days at a low cost.